The Plant That Changed Everything
History & Culture
The tea plant is steeped in fascinating history and culture, with many corners of the world having developed their own styles, techniques, and mythos around this mystical beverage.
Regardless of how you take your tea, we've got part of our site that's tailor-made just for you. We've got brewing guides, the history and science (with sources!) of how tea became what it is, and more.
With our new name coming in the midst of summer, it feels right to start with a quick guide to iced tea so you can beat the heat in the tastiest way possible.
How to Make Iced Tea
We like to make iced tea in big batches — if you want less, you can halve or quarter the recipe.
If you're trying to prep for a busy day, we highly recommend making a quarter batch in your favorite travel shaker or water bottle. Now, let's make a big ol' batch of iced tea:
Combine sixteen Pyramid Tea Bags and one gallon of cold water in a large, lidded container.

For a half batch, use eight tea bags and 64 ounces of water; for a quarter batch, use four tea bags and 32 ounces of water.

Place the pitcher in your refrigerator overnight (at least ten hours).
Enjoy!
Pro Tip: Add pieces of fresh fruit, agave syrup or local honey, or citrus juice overnight for a tasty take on your favorite tea!
Portal's Best Iced Tea Options
Need help deciding? Take a peek below for our summer favorites!
Classic

NW Earl Grey No. 14 is a classic for good reason — it shines hot and cold, sweet and plain — the choices are endless.

Fruity

Peach Blossom White No. 114 is a delightfully refreshing white tea take on your favorite classic peach tea.

Floral

Lavender White Tea No. 118 offers the gentle notes of lavender backed by a delicious natural sweetness.

Earthy

Roasted Yerba Mate No. 44 makes for an earthy iced tea with a big boost of energy — try it with oat milk!

Caffeine-Free

Blueberry Rooibos No. 115 combines the vanilla-like flavor of rooibos with natural blueberries for a caffeine-free, all-day refresher.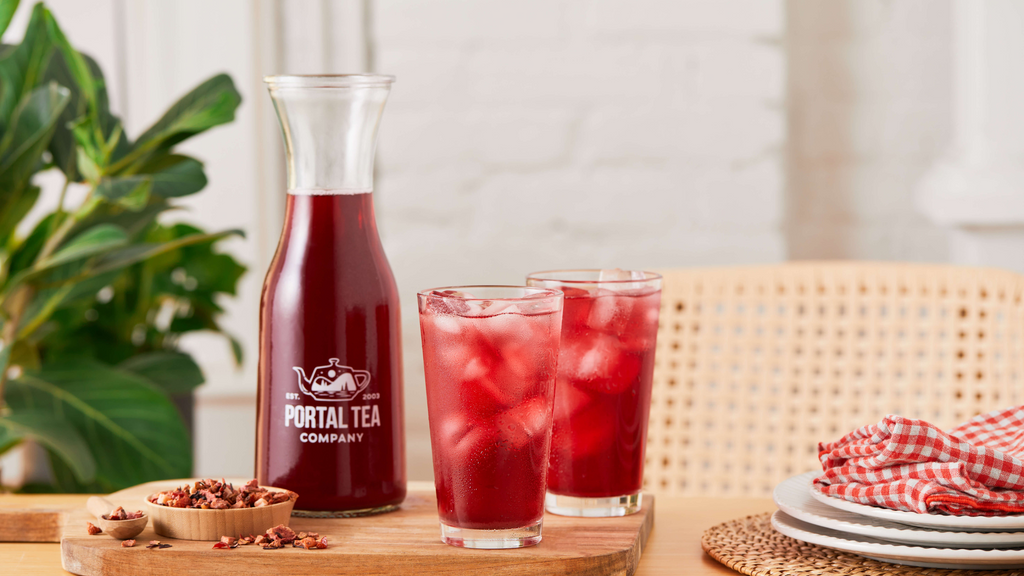 Want more?
Swing through one of our shops in Portland or Eugene for an effortless cup of iced tea your way — whether you prefer boba, sparkling or nitro iced teas, specialtea syrups, or the ease of a pro brewing you the perfect cup in minutes, we've got precisely what you need.
So grab a good book and come see why Portal Tea is an Oregon staple.